Products: Control Techniques - Commander C300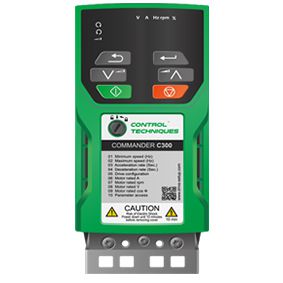 Overview


Set just 4 parameters to get your drive started.
Plug-in options for advanced control.
Dual Safe Torque Off (STO), function may be used as a safety component of a machine.
Equipped with the latest energy saving features.
Up to 180% overload for high torque applications.
On board PLC.
Straightforward installation and commissioning.
Easy motor pairing and performance control.
Robust and reliable design.

Technical Features - Environment

Ambient Operating Temperature:

Size 1 - 4: -20
ᵒC to 40ᵒC @ 3kHz switching frequency | Operation to 60ᵒC with de-rating
Ambient Operating Temperature:

Size 5 - 9: -20ᵒC to 40ᵒC @ 3kHz switching Frequency |Operation to 55ᵒC with de-rating
95% non-condensing at 40
ᵒC
Size 1 - 4: -40
ᵒC to 60
ᵒC
- 24 months maximum
De-rate the continuous output current by 1% for every 100 m above 1000 m to a maximum of 3000 m
Tested in accordance with IEC 60068-2-64 and IEC 60068-2-6
Tested on accordance with IEC 60068-2-27 and IEC 60068-2-29

Electromagnetic Capability:

IEC/ EN 61800-3 Immunity and Emissions

Electromagnetic Capability:

EN 61000-6-2: Immunity for industrial environments
Electromagnetic Capability:

EN 61000-6-4: Emission for industrial environments

Electromagnetic Capability:

EN 61000-3-2: Harmonic current emission

Complies with the Restriction of Hazardous Substances Directive (2011/65/EU)

Technical Features - AC Supply Requirements

100 V models:100 - 120 Vac ±10%
200 V models: 200 - 240 Vac ±10%

400 V models:380 - 480 Vac ±10%
1Ø and 3Ø (Model dependent)
Maximum Supply Imbalance:
2% negative phase sequence, 3% voltage imbalance phase
Input Displacement Power Factor:

Technical Features - Approval & Listings

These products comply with the Restriction of Hazardous Substances Directive (2011/65/EU), the Low Voltage Directive (2014/35/EU) & the Electromagnetic Compatibility Directive (2014/30/EU)
Manufacturing Facilities comply with ISO 9001:2015 an ISO 14001