Products: Repair & Rewind


Overview

Vert Energy prides itself as total turnkey service provider in the small to medium sized market of Electric Power Generation repairs and services.
The company is one of only a few that is able to offer a full electro-mechanical solution across the region.
Armed with this Vert Energy has the ability to provide a complete aftermarket power generation repair service for units from 20kVA -27000kVA.
This area of expertise is also extended to both AC and DC Electric motors in a similar KW rating

The range of services onsite includes inspection, fault finding, removal, repair, refurbishment, and commissioning of any design or type generator stator or rotor.
In instances where repairs are not possible on site Vert Energy have a number of workshop repair solutions:

Workshop in Johannesburg
Network of reputable in country repair workshops
OEM Workshops for specialised and certified repairs

The company places a firm emphasis on only using original spare parts and will not sacrifice quality for cost savings.
All procedures are performed inline with OEM specifications and must conform to the said tolerances and standards.
The table below indicates some of the capabilities and scope of repair work the company can perform onsite: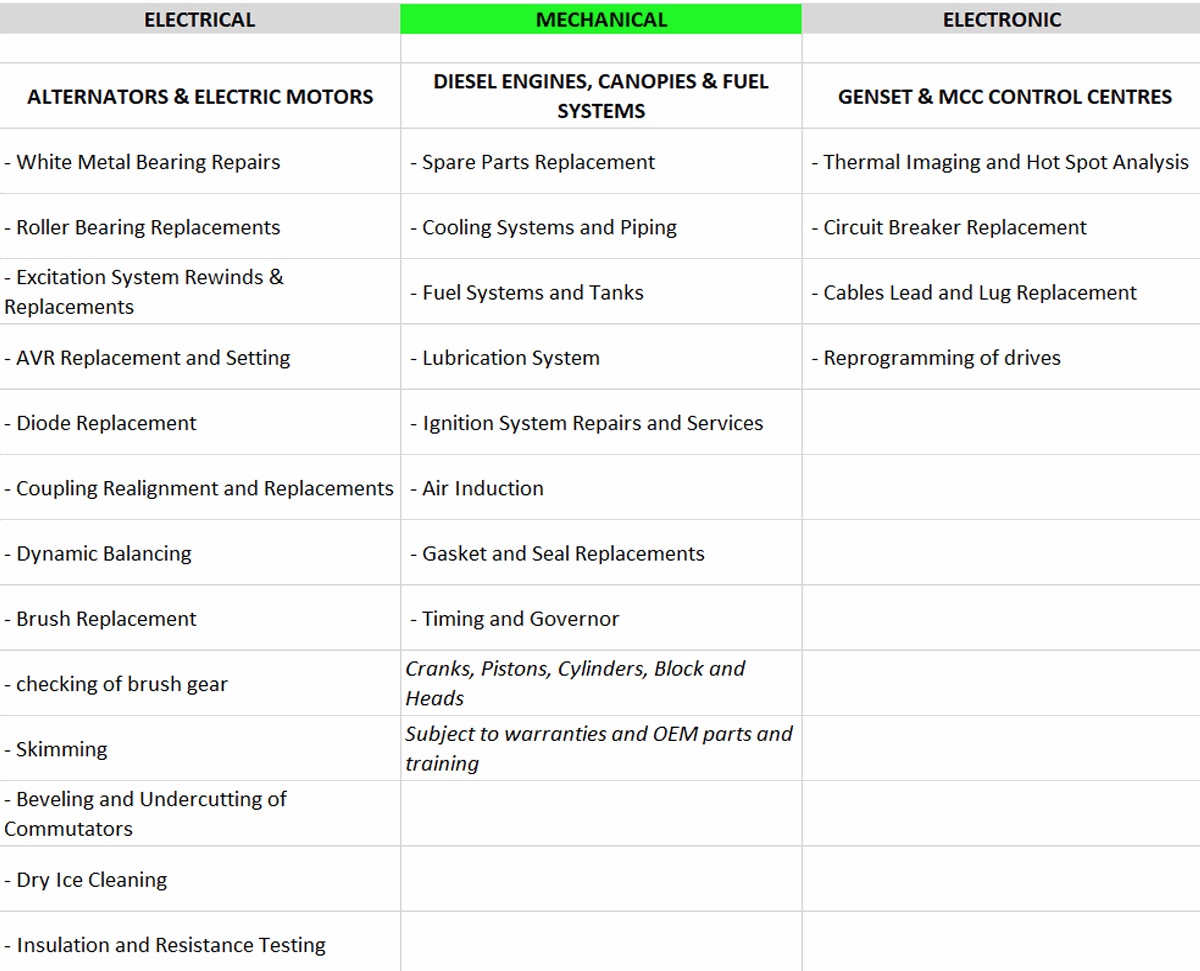 Vert Energy have the ability to perform repairs on units from 20kVA-1000kVA. For units outside of this size and that require rewinding and repairs to armatures the company has established a close working relationship with Africa's leading armature winding company that has a dedicated electric power generation division. The benefit is that units can be tested from 220v - 11000v.

In additition to this the company has collaborated with repair workshops in strategic major towns and countries to increase the African footprint and service capabilities.

OEM Repairs

In instances where the scope of work exceeds our technical competencies and workshop capacities or should special accreditation marks be requested these units will be sent back to the factory or place of manufacture for such work to be undertaken.